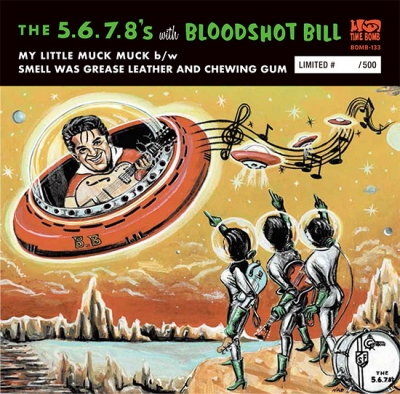 ​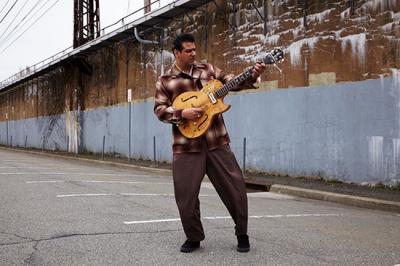 ​
The 5.6.7.8'S with BLOODSHOT BILL 
b/w  SMELL WAS GREASE LEATHER AND CHEWING GUM
世界的規模で人気な、東京ロッキン・ガレージ・ガール・トリオ
THE 5.6.7.8'Sと、カナダのカルト・ロッカーBLOODSHOT BILL
による、NORTONレコード主催者 BILLY MILLER / BILLY(ギター
ウルフ) 追悼共演作! A面はBILLのリードVo.、5.6.7.8'sのキュー
トなDooWopコーラスによる、シンプルRAWでキュートなR&R
(YouTubeアップ中)! 逆面はYoshikoのVo.によるクール・ロッカ・
バラッド!スペーシィなジャケ・イラストは、NAOYA (BOBBY'S BAR )!
500枚限定ナンバリング 7" [ BOMB-133 ] 税込 ¥1500 
2019.4/7(日) タイムボム&バンド・ライブ会場先行販売!
※ 4/7(日)[BACK FROM THE GRAVE 30th ANNIVERSARY]
THE 5,6,7,8's JACKIE & THE CEDRICS. 
新宿 RED CLOTH.  Open / Start 5:30PM. ADV 2,300yen(+1D)
World famous Tokyo Rockin' Garage trio The 5.6.7.8's
and Canadian cult rocker Bloodshot Bill get together for a tribute
single for Billy Miller (Norton Records/A Bones) and Billy (Guitar Wolf) .
A-side is primitive lo-fi rawness with Bill on vocals and the 5.6.7.8's on
doo-wop chorus (check it out on Youtube).  The flip is a cool rockin'
ballad with Ronnie on vocals.  And Nao (from Bobby's Bar) did
the cosmic illustration! 
500 limited numbered 7"  [ BOMB-133 ]  ¥1500 (inc.tax)
Out Apr.7th 2019 only available at Time Bomb & The 5.6.7.8's show.
APR.7th Sun.  [BACK FROM THE GRAVE 30th ANNIVERSARY]
THE 5,6,7,8's,  JACKIE & THE CEDRICS. 
Shinjuku RED CLOTH.  Open / Start 5:30PM. ADV 2,300yen(+1D)